"Who Else Wants In On The Best Kept
Online Dating Secret On Earth?
You Are About To Unleash The Amazing Power Of Twitter As A Dating Site...For Free! "
Download @ScotMcKay's FREE 80-page e-book
How To Meet Someone On Twitter
INSTANTLY using the form below and discover...
Ingenious ways that using Twitter will make you dramatically more successful on other dating sites

How to build a large following and achieve high social status on Twitter in record time

How to make sure every available advantage is working in your favor...even by using other websites to maximum effect

All-important "must-have" strategies that will ensure your success with high-quality men on Twitter...right from the beginning

Step-by-step instructions on how exactly to meet and be met by terrific guys on Twitter, build attraction, take the interaction offline and actually meet face-to-face

Powerful steps to creating a Twitter profile that captures his attention at a primal level and separates you from the other women

And you'll get a FREE subscription to my wife @EmilyMcKay's unique dating newsletter, packed with real-world tips.
PLUS receive a FREE 8-Part Mini-Course called "16 Generally Accepted But DISASTROUS Dating Principles". Can you guess what they might be? This knowledge alone may change your life dramatically.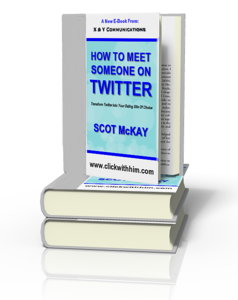 Enter your valid e-mail address below and click
the "Instant Download" button to log-in and
Download The E-Book Immediately For Free.
Please be sure to check your e-mail box for a
confirmation request to receive the newsletter.
---

We take your privacy very seriously. We will never share your contact info with anyone.

"How To Meet Someone On Twitter" and "Deserve What You Want™" are copyrighted trademarks used by X & Y Communications. By entering the site, you agree to standard Terms And Conditions. By entering your email address you are also requesting and agreeing to subscribe to our free X & Y Communications email newsletter, which you may easily cancel at any time.
©2009 X & Y Communications LLC, All Rights Reserved.